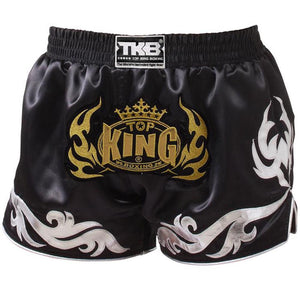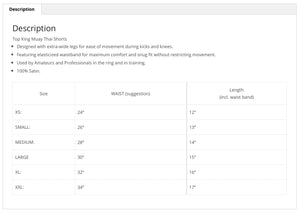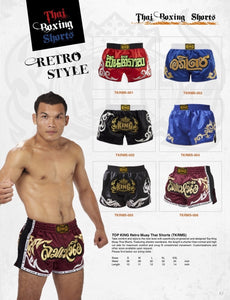 Top King "RETRO STYLE" Muay Thai Boxing Shorts - TKRMS-005
OVERVIEW:

BLACK TOP KINGS UNISEX "RETRO STYLE"

Muay

-Thai Shorts.

TOP

KING

Model

TKRMS-005-BLACK COLOR

is Made from high

quality Satin

.
"TOP KING

" LOGO

lettering across

the front in GOLD Color.
It also features the "TRIBAL BAND" designs in SILVER COLOR all around

 the shorts.
The Waistband is SOLID BLACK COLOR all around the shorts. It also has the TOP KING logo on the waistband in the middle of the shorts in Black and Silver COLOR.
What makes these "RETRO STYLE" shorts so Significant is that they feature a

SMALLER Waistband.
The LENGTH is SHORTER than normal and HIGH CUT SIDE for MAXIMUM COMFORT and snug fit for UNRESTRICTED MOVEMENT.
Perfect for Training and also perfect for competing.

Ideal for competition, sparring or training.