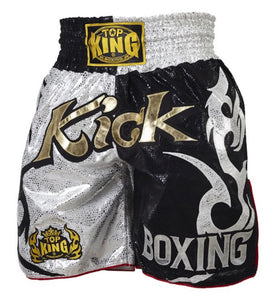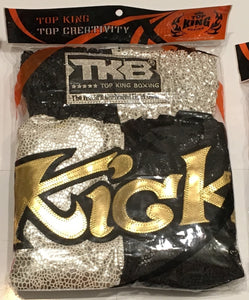 Top King "KICK-BOXING" K-1 BOXING Trunks - TKKBT-016 - Popular and Trendy Style!!
OVERVIEW:
These are K-1 BOXING Trunks and are made to cover your Thighs closer to your Knee cap. 
TOP KINGS UNISEX Boxing Trunks 

(

Model

 016

) 

 

is made from high

 

quality Satin

.
Has "KICK

" 

across

 

the front in GOLD COLOR & "BOXING" in Silver Color across the  Left Bottom. 
It also features the "TRIBAL BAND" DESIGN in Silver COLOR 

across the Left side of the shorts and the Tribal Band" Design in Left Color on the Right Side.
Fit:

These are K-1 BOXING TRUNKS which are custom made to have a Length that is Longer towards your knee than Muay Thai Kickboxing Shorts.