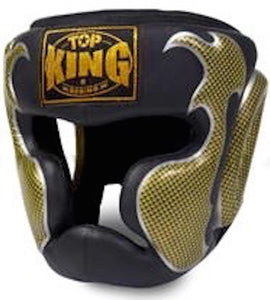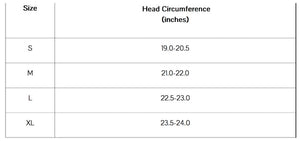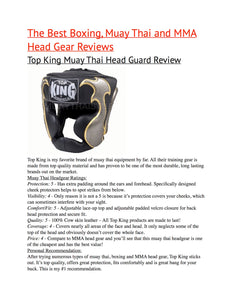 Top King "EMPOWER CREATIVITY" Head Guards - TKHGEM-01-GD (Black)
OVERVIEW:
Top King Head Gear "EMPOWER CREATIVITY" Genuine Leather (TKHGEM-01) in Gold and Black color with 

multi-layer inside foam for the most comfortable wear.

Head Guard made in Thailand from compounded high grade Leather and PU. It provides Extra Coverage over Cheeks, Forehead, Chin, Ears, and Back of Head.
SUITABLE FOR:
Muay Thai, Stand Up , Kickboxing
FEATURES:
Inside layer is smoother for easy clean and dry after use. Lace-up on top and back with hook-and-loop closure for secure fit.

Specially designed cheek protectors ensure maximum visibility even from shots below the eye line.

Sizes : S,M, L, XL in stock.

In-Stock Color: BLACK and GOLD

Made in Thailand the MECCA of Muay Thai.

Made of the highest quality cowhide leather so it will have LONGEST LASTING DURABILITY.