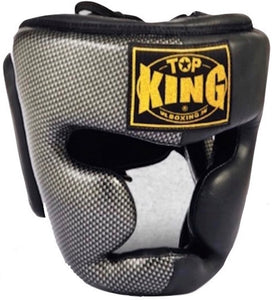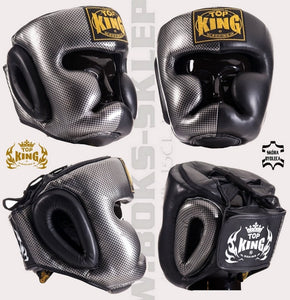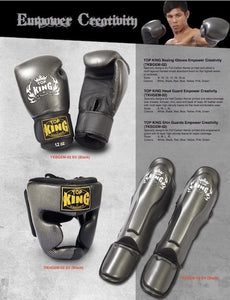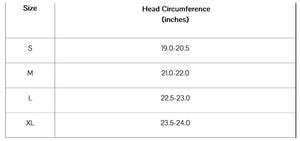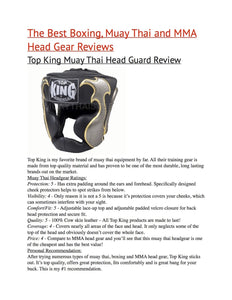 Top King "EMPOWER CREATIVITY" Head Guards - TKHGEM-02-Black/Silver
OVERVIEW
Top King Head Gear "EMPOWER CREATIVITY" Genuine Leather (TKHGEM-02) in SILVER and BLACK color. The Top King Empower Creativity Head Gear are an all leather cover with multi-layer inside foam for the most comfortable wear. Head Guard made in Thailand from compounded high grade Leather and PU. It provides Extra Coverage over Cheeks, Forehead, Chin, Ears, and Back of Head.
Top King is recognized as the gear of champions and endorsed by world champion fighters, instructors, promoters and sanctioning bodies worldwide as the leader and innovator in high impact combat sports. Top King equipment is "Engineered for Top Performance" and students from all over the world train with Top King. Top King Boxing has grown massively over the years to become a highly respected manufacturer of Muay Thai equipment. It has a recognised standard of quality that is achieved time after time. It is created using raw materials by skilled craftsman with a lot of experience and cutting edge innovation that has been passed down from generation to generation.
SUITABLE FOR:
Muay Thai, Stand Up , Kickboxing
FEATURES:
Provides extra coverage over cheeks, forehead, chin, ears, and back of head.

All leather cover with multi-layer inside foam for the most comfortable wear.

Inside layer is smoother for easy clean and dry after use. Lace-up on top and back with hook-and-loop closure for secure fit.

Specially designed cheek protectors ensure maximum visibility even from shots below the eye line.

Sizes : S,M, L, XL in stock.

In-Stock Color: BLACK and GOLD

Made in Thailand the MECCA of Muay Thai.

Made of the highest quality cowhide leather so it will have LONGEST LASING DURABILITY.