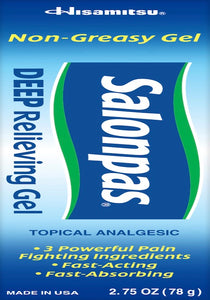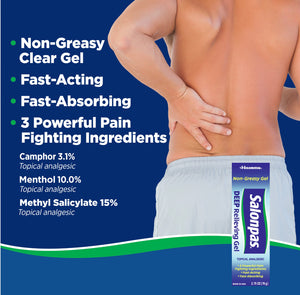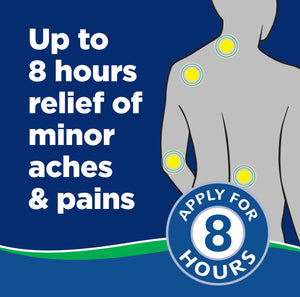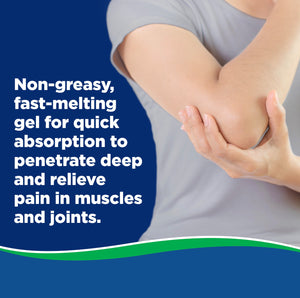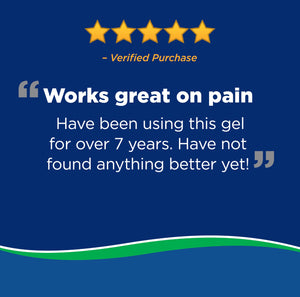 Salonpas Deep Relieving Gel 8-Hour Fast-Acting Pain Relief - 2.75 oz Tube
Salonpas DEEP Relieving Gel contains three active ingredients that penetrate deep, providing effective relief for up to 8 hours. The clear, non-greasy gel starts working on contact, absorbing quickly to deliver the medicine deep into muscles and joints. Top-quality active ingredients Camphor, Menthol, and Methyl salicylate work to relieve pain and relax muscles for up to 8 hours. Topical pain relievers like Salonpas are recommended first-line pain treatment based on CDC & other guidelines. The targeted relief of Salonpas topical pain relievers works at the site of pain. Non-addictive Salonpas topical pain relievers are gentle on the body. In the century-and-a-half since our founding, Hisamitsu has pioneered the development of patches and other topical treatments to relieve everyday aches and pains. This is our mission, to make topical care available for all who seek it - anytime, anywhere.
SALONPAS DEEP RELIEVING GEL: 3 Active ingredients penetrate deep under the skin for maximum pain relief. Easily apply gel under clothing for up to 12 hours of relief from muscle soreness, sprains, back pain or backache, joint pain, & neck pain
TACKLE LARGE OR SMALL PAIN AREAS: Convenient fast-absorbing gel provides powerful targeted pain relief for muscles and joints. Plus, check out our whole assortment of pain relief products and find a pain relief solution tailored for you
QUALITY ACTIVE INGREDIENTS WITH NO PRESCRIPTION: With Camphor (3.1%), Menthol (10.0%), and Methyl salicylate (15.0%) you're getting some of the highest strength pain relief you can buy without a prescription. That's powerful medicine to provide targeted relief for hours with no doctor visits.
HOURS OF PAIN RELIEF: Is back pain holding you back? Does neck pain make it hard to focus? Is joint pain or muscle soreness stopping your favorite activities? Salonpas patches provide hours of pain relief. Why let pain stop you, when you can stop pain
SALONPAS TO HELP SOOTHE YOUR PAIN: With pain relief patches, spray, cream, gel and liquid, Salonpas is here to help you get through your day with discreet, easy to use, topical pain relief for temporary relief of aches and pains
Instructions: Adults and children 12 years of age and over: clean and dry affected area; apply a dime sized portion to the affected area; massage thoroughly until absorbed into skin; apply to affected area not more than 3 to 4 times daily. Children under 12 years of age: consult a doctor. Avoid storing product in direct sunlight. Protect product from excessive moisture. Store at 20-25 degrees C (68-77 degrees F). Store with lid closed tightly.