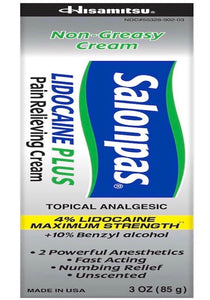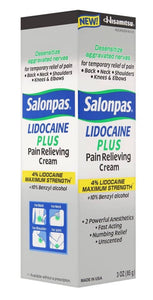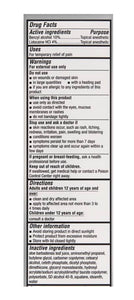 Salonpas Lidocaine Plus Pain Relieving Cream - 3.0 oz
Salonpas Lidocaine Cream: Maximum strength Lidocaine, available without a prescription, provides relief for minor aches and pains; Pain creams help muscle soreness, sprains, back pain or backache, joint pain,and neck pain
Tackle large pain areas: Convenient Lidocaine Cream provides powerful targeted numbing pain relief for back, neck, shoulders, knees, elbows.
Quality active ingredients with no prescription: Benzyl Alcohol numbs nerves fast and lidocaine is at the maximum strength you can buy without a prescription; That's two powerful medicines that provide targeted relief and calms nerves for hours.
Hours of pain relief: Is back pain holding you back; Does neck pain make it hard to focus; Is joint pain or muscle soreness stopping your favorite activities; Salonpas patches provide hours of pain relief; Why let pain stop you, when you can stop pain.
Salonpas to help soothe your pain: With pain relief patches, spray, cream, gel and liquid, Salonpas is here to help you get through your day with discreet, easy to use, topical pain relief for temporary relief of aches and pains.