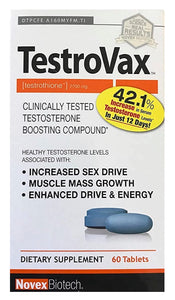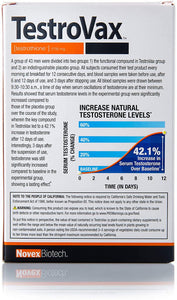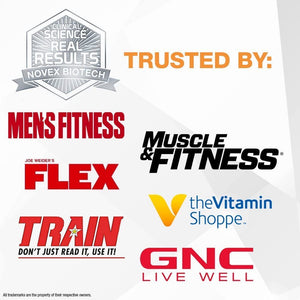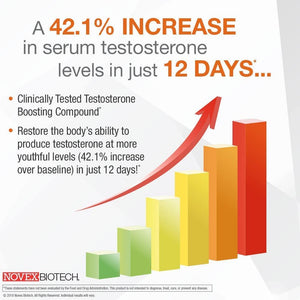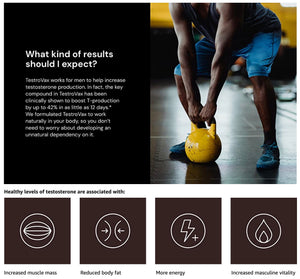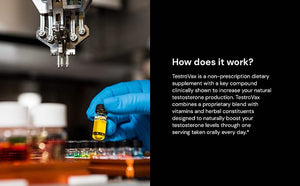 Novex Biotech TestroVax - 60 Capsules - Clinically Tested Testosterone Boosting Compound
Formulated with a clinically validated compound to increase the natural production of testosterone and raise mean serum testosterone levels by 42.1% 

in just 12 days*!
A group of 43 men were divided into two groups: 1) the functional compound in TestroVax group and 2) an indistinguishable placebo group. All subjects consumed their test product every morning at breakfast for 12 consecutive days, and blood samples were taken before use, after and 6 and 12 days of use, and 3 days after stopping use. All blood samples were drawn between 9:30-10:30 a.m., a time of day when serum oscillations of testosterone are at their minimum. Results showed that serum testosterone levels in the experimental group were significantly increased compared to those of placebo group over the course of the study, wherein the key compound in testosterone led to 42.1% increase in testosterone after 12 days of use. Interestingly, 3 days after the suspension of use, testosterone was still significantly increased compared to baseline in the experimental group, showing a lasting effect.*
Clinically tested testosterone blood boosting compound.* Clinical science, real results. Testrothine 2700 mg.
Healthy testosterone levels associated with: increased sex drive, muscle mass growth, enhanced drive & energy.
This product is not intended to diagnose, treat, cure or prevent any disease.