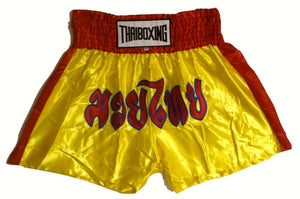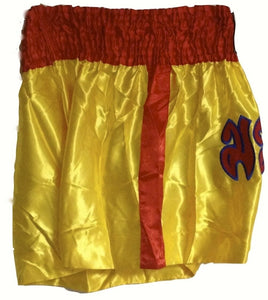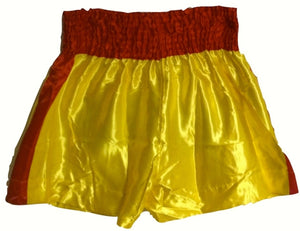 MUAY KICKBOXING "THAI BOXING" SHORTS -TBS-YELLOW/RED
OVERVIEW:
These YELLOW and RED Muay Thai Shorts are quite Popular in the Muay Thai and Kickboxing world because of their look and comfort. They are YELLOW color and Feature RED around the waist and sides of the shorts.
Made with Extra Wide Legroom for Better Movement when Kicking or Kneeing during training or competing.
8-Strip Elastic Waistband w/ Drawstring for Snug Fit.
***THESE SHORTS ARE NOT REGULAR AMERICAN SIZED STANDARDS. WHEN ORDERING PLEASE ORDER 2 SIZES ABOVE WHAT YOU NORMALLY WEAR. EXAMPLE--SIZE LARGE WOULD BE A SIZE 2XL******