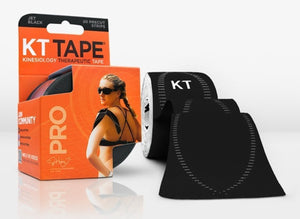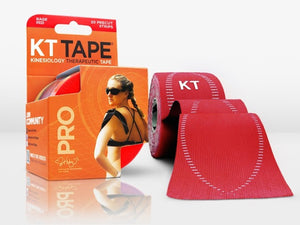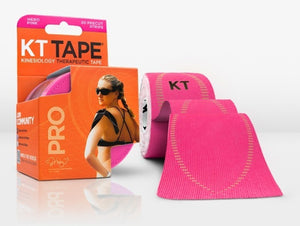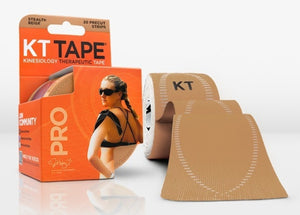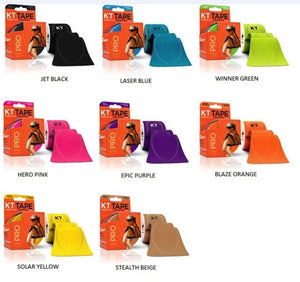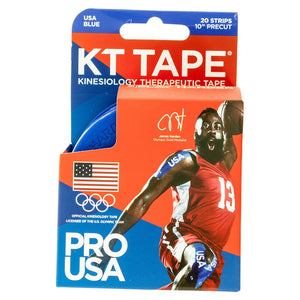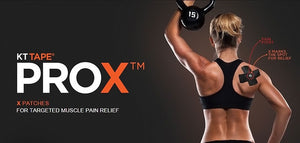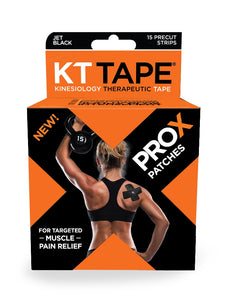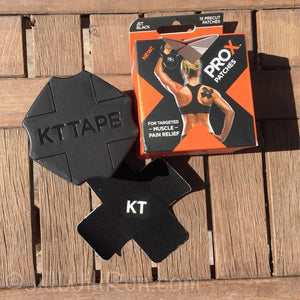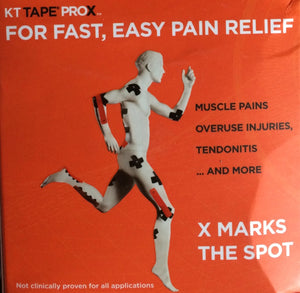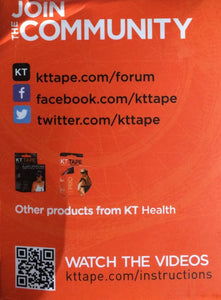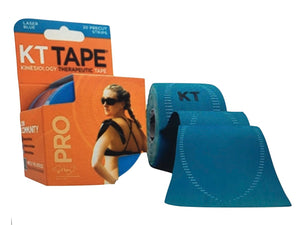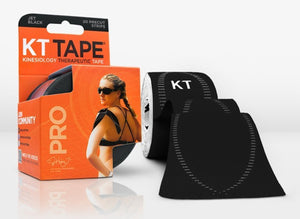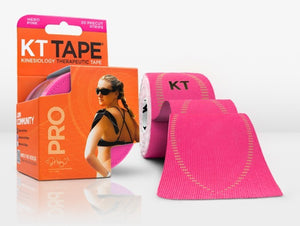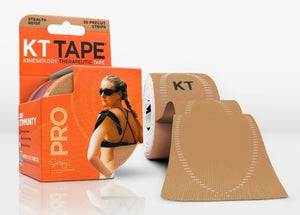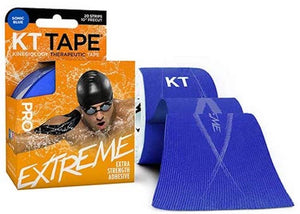 KT Tape PROX - Kinesiology Tape - Elastic Sports Tape For Pain Relief and Support
OVERVIEW:
SORE MUSCLES, JOINTS AND TENDONS-REJOICE:
Need support that will endure your toughest workout? KT TAPE PRO is just what the trainer ordered. It will keep you pain free and supported exactly where you need it. KT TAPE PRO will stay in place through multiple demanding workouts for up to seven days. KT TAPE PRO will stick with you in the harshest conditions including daily showers, humidity, cold, even in the pool. KT TAPE PRO is performance engineered to work in the harshest environments. It's the world's only 100% synthetic kinesiology tape, re-engineered with stronger adhesive, to out last anything you can throw at it. Each box comes with 20 precut strips of 100% synthetic tape. One hard plastic carrying case with twist on lids to keep your tape in good shape in your gym bag or purse. One Quick Start Guide with step-by-step instructions on the most common injuries and one KT sticker.
SUITABLE FOR:
CrossFit,Muay Thai, Kickboxing, Boxing, MMA, All Sports, Everybody who is involved with any Contact Sports,Sparring, Competition,Training
FEATURES:
Comfortable to wear for up to 7 days

Stays on in water

Targeted pain relief
SPECS:
100% SYNTHETIC microfibers for better aquatic performance

UltraLite Elastic Core - for better support

Secondskin Adhesive for use in extreme conditions

Precut "I" strips for easy handling

Includes protective travel case

Reflective safety design for use in the dark

Latex free for sensitive skin

Step-by-step instructions for applying

Includes twenty-10" precut "I" strips per roll
SOME FREQUENTLY ASKED QUESTIONS:
DO DIFFERENT COLORS DO DIFFERENT THINGS?
No. The colors are just to give you the option to be fashionable. The tape is produced to the same specifications for all colors.
THE VIDEO SHOWED 2 COLORS, DO I NEED 2 ROLLS TO USE IT?
No. We use more than one color in the videos to make it easier to see when there are multiple strips of tape in the application. A single color has 20 strips which is enough for 8-10 applications on average.
HOW LONG CAN I WEAR THE TAPE?
KT TAPE generally lasts up to a week at a time if applied correctly. The length of time it lasts depends on which part of the body it is applied to and environmental conditions such as humidity. We recommend removing the tape after 7 days to let the skin breathe before re-taping.
IS THE TAPE 1-TIME USE OR CAN I RE-USE IT?
It's one time use. Each box of KT TAPE has 20 strips of tape, enough for approximately 8-10 applications. Each application should last for up to a week.
DOES THE TAPE REALLY WORK OR IS IT A FITNESS FAD?
The use of taping to prevent and treat injuries is a practice that can be traced back to Hippocrates in ancient Greece. In the past 40 years, kinesiology tape has grown in popularity with medical and healthcare professionals world-wide in helping patients treat and prevent injury
HOW DO I APPLY KT TAPE?
Applying the tape is easy. Just go to kttape.com/instructions for a quick video that shows you how to apply for nearly every common injury.
CAN I USE IT IN WATER?
Yes. KT TAPE and KT TAPE Pro are designed to be worn in the water and and while sweating without coming off.
CAN I TAPE MORE THAN ONE APPLICATION AT A TIME?
Yes. Applying more than one application will not cause any problems and many times it can help significantly.
WHAT'S IN THE TAPE?
Nothing. KT Tape has no additives or preservatives and is non-medicated.
WHAT IF I APPLY IT INCORRECTLY?
Unlike medications and other sports injury products, it's unlikely that you'll hurt yourself applying KT TAPE incorrectly. Applying incorrectly will limit effectiveness. A benefit of tape is that it's easy to remove if it doesn't feel right.
DO I HAVE TO SHAVE FIRST?
No, not normally. However, if you have excess hair you will need to trim the area to about 1/8" so the tape can adhere directly to the skin.