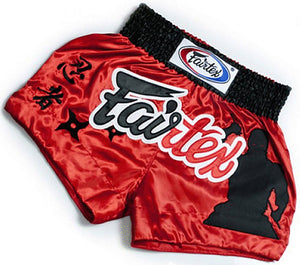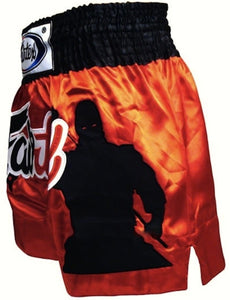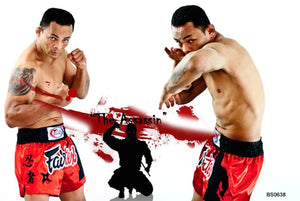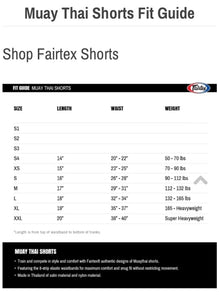 Fairtex "THE ASSASSIN" Muay Thai Kickboxing Shorts - BS0638
These BS0638 "THE ASSASSIN" Muay Thai Shorts are Popular in the Muay Thai and Kickboxing world because of their look and comfort.

They are RED with BLACK & Features the embroided Ninja Character & the Word "Ninja" in "Kanji" or "Shinobi".

100% polyester Satin. 

Ideal for competition, sparring or training.

Fairtex Logo on front, 

8-Strip Elastic Waistband w/ Drawstring for Snug Fit.

Made with Extra Wide Legroom for Better Movement when Kicking or Kneeing during training or competing, Fairtex Shorts are a Large Fit. 

Fairtex have been producing Muay Thai equipment since 1993 and are well known in the sport as a brand who put development and style at the forefront of their products.