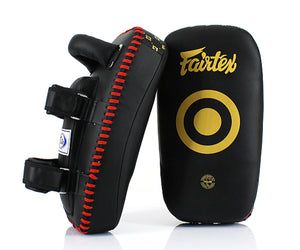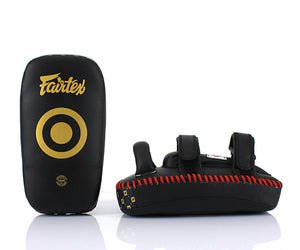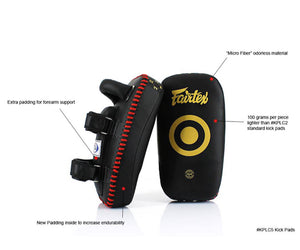 Fairtex Muay Thai Kickboxing Lightweight Thai Pads - KPLC5 - Black/Gold - Sold as a Pair
New Curved Design makes holding the pads much easier during training.

Microfibre Odorless Material.

100 grams per piece lighter than KPLC2 standard kick pads.

So what's the difference between the KPLC5 and KPLC6? The KPLC6 is Smaller and has only 1 Strap. The KPLC5 features two straps and is Regular Standard Size. 

New off-edge Stitch Design helps prevent foot injuries and makes it more comfortable for the individual kicking. 

Ergonomically designed to fit a forearm Soft and flexible.

The curved structure, Left & Right hand fittings along with padded straps provide solid forearm support for maximum comfort & balance.

Good for everyone especially women, kids and amateurs.

Dimension: Width x Length x Thick (cm) 20.5cm x 38cm x 6cm.

Weight (2.25 kgs) (4.95 lbs./2.5 lbs each pad)

Sale is for Both Pads. Sold as a PAIR. 

Not sold individually. 

Handmade in Thailand.