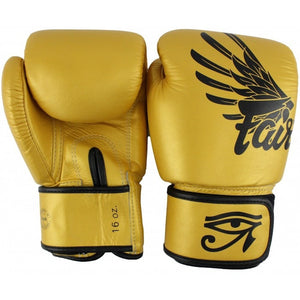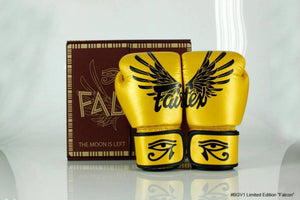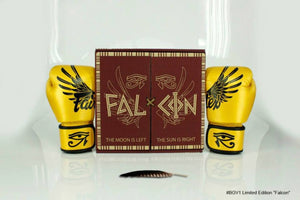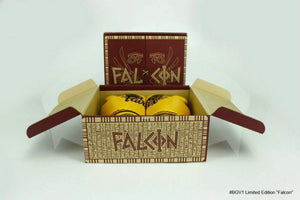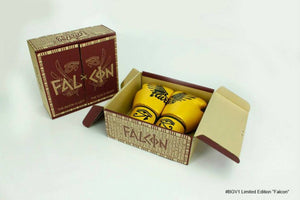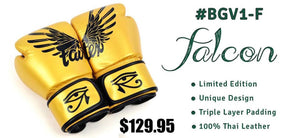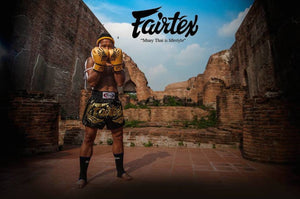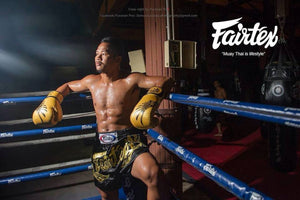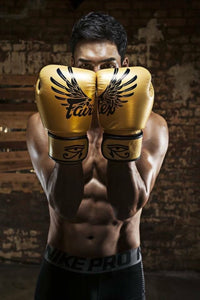 Fairtex "FALCON" Muay Thai Style Training Gloves - BGV1 - Gold Color
These Fairtex Gloves are emblazoned with the Eye of Horus and his wings. The "Eye of Horus" is an Ancient Egyptian Symbol of Protection, Royal Power and good health. Gold Symbolizes POWER and PERFECTION.

Genuine top grain leather.

Full wrist wrap hook and loop closure.

The wraparound hook and loop wristband is easy to use and designed to provide a better fit for greater comfort and control.

Evenly distributed padding protects your entire hand and Creates a tight and compact design.

Shock-absorbing, high-density foam core

Thumb attached for added safety.

These all-purpose training gloves are perfect for bag and pad work.

Designed using the same structure as famous Fairtex BGV1 Gloves.

Handmade in Thailand with top grain leather construction.

The Fairtex "FALCON" boxing glove is

 

designed for a better fit, tighter wrist support, and ease of use.

They

 are perfect for either Boxing or Kickboxing training.