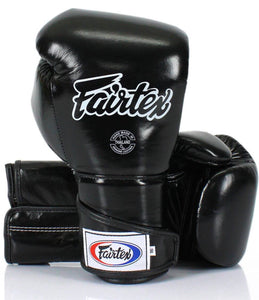 Fairtex Angular Sparring Gloves - BGV6 - Black
Fairtex BGV6 Angular Sparring Gloves use an ergonomic design with three layers of foam padding around the knuckle area. As a result, these gloves offer optimal shock absorption on each strike. The contoured hand compartment and thumb design makes forming a fist effortless.

The extended cuff offers extra support to the wrist and forearm. These sparring gloves are designed to minimize wrist tension, while maximizing support and protection. The attached thumb design limits thumb injury to the wearer, and potential eye injury to the sparring partner.
Fairtex equipment is "Engineered for Top Performance" and students from all over the world train with fairtex.
Genuine top grain leather.