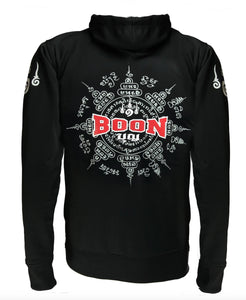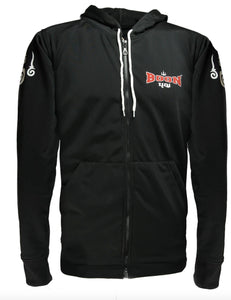 Boon Sport "ROUND SAK YANT" Full Zip Hoodie
This Black Boon Hoodie has 'ROUND SAK YANT" Tattoo imprinted on the back and the Boonsport logo on the front of it along with Thai Scripture on the sides of each shoulder. 
This full zip hoody is perfect for all weather.  
SUITABLE FOR:
Muay Thai, MMA, casual wear, All Sports 
FEATURES:
Boon Sport "ROUND SAK YANT" Hoodies are 100% cotton hand-made in Thailand and designed entirely for Muay Thai enthusiasts and fans of the sport.

This is a beautiful Sweatshirt that has Authentic craftsmanship by a traditional Thai brand.

Crafted by Boon in Thailand for both training and casual-wear, this Muay Thai Apparel is built to last.

Three piece hood construction for optimal fit and coverage, front zipper and two front pockets.

Authentic craftsmanship.

With a focus on quality and performance, Boonsport has become a leading Thai brand.

The Boonsport Sweatshirt/Hoodie are Regular USA Size Standard Fit.