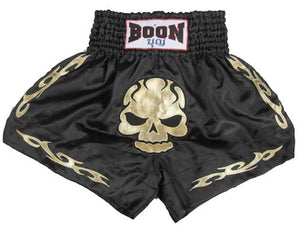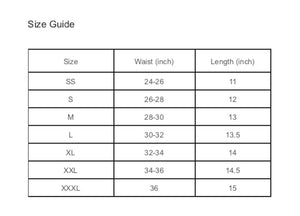 Boon Sport "MONSTER" Muay Thai Shorts
Item Description:
These Black/Gold "

Monster" Muay Thai Shorts are quite Popular in the Muay Thai and Kickboxing world because of their look and comfort.
They are Mostly Black with a GOLD "SKULL" in the middle front of the shorts and tribal bands all around the shorts.
It also has the Boon Patch on the waist in the front.
OVERVIEW

Boon Muay Thai Shorts are 100% Satin handmade in Thailand at the Boon factory. Not out sourced like many of the less authentic brands. The authentic style of Boon Thai shorts means they have a deep waistband and are slightly longer legs allowing them to be comfortably worn with the waistband rolled over if required

Legendary Muay Thai Brand Boonsport gives uncompromising quality, attention to detail and equipment you can depend on for many years. Boonsport is a Muay Thai Kickboxing brand where the focus is completely on quality. Boon MT01 Muay Thai Shorts are part of the superb range of authentic Thai shorts that have been worn by Champions such as John Wayne Parr, Bovy, Artur Kyshenko, Liam Harrison and many others. These shorts have a 'Skirt' design inspired by gladiatorial kickboxing

SUITABLE FOR:

Muay Thai, Stand Up, Kickboxing

FEATURES:

Extra Wide legs for unrestricted kicking

100% Satin

Ideal for competition, sparring or training

Draw cord

Deep Waistband

 

FIT:

Boonsport Thai Shorts have a slightly longer leg than many Thai brands to allow the waistband to be rolled over. They use the Thai waist sizing (see chart below)

Small 24-26"

Medium 27 – 29"

Large 29 – 31"

XL 32-33"

XXL 34" – 35"

XXXL 36-38"

As with all Thai Shorts they should be hand washed cold and drip dried for maximum longevity