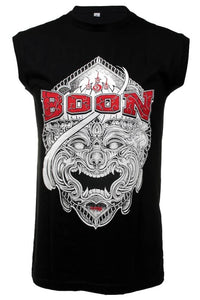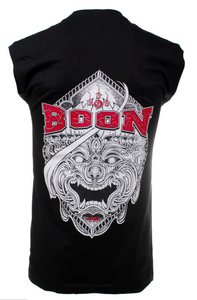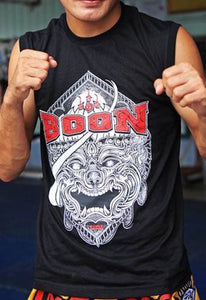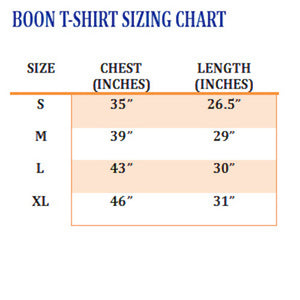 Boon Sport Sleeveless T-Shirt - Hanuman Face
 OVERVIEW:
This Boon/Boonsport Sleeveless T-Shirt has the Boon "HANUMAN FACE" Logo printed on the FRONT and the "HANUMAN FACE" printed on the Back of the shirt.

One of the Most Popular Tattoos amongst Muay Thai Fighters is the Hanuman Warrior. Hanuman is worshiped by many people as a symbol of STRENGTH, PERSERVERANCE, and DEVOTION.

The Belief is that the bearer will gain the benefits of bravery and coverage.

Boon Sport Logo Tee is an 100% cotton tee hand-made in Thailand and designed entirely for Muay Thai enthusiasts and fans of the sport. This is a beautiful tee that is well-crafted by a traditional Thai brand and is an authentic piece of Muay Thai apparel
SUITABLE FOR:
Muay Thai, MMA, casual wear
FEATURES:
100% cotton

Handmade in Thailand

Authentic craftsmanship

Range of designs

One size

Black

 
FIT:
The Boonsport Tee range are small fitting so grab a larger size if in doubt.