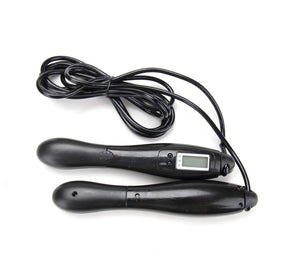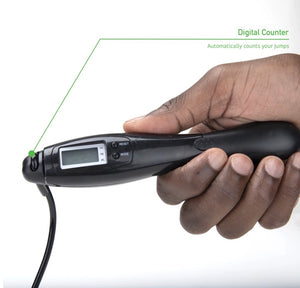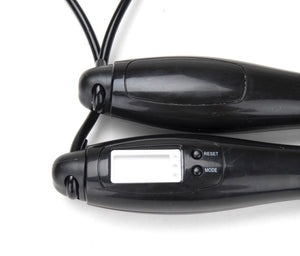 Adjustable Jump Rope - Digital Counter - Perfect for Anyone - The Best Cardio Workout
Take your workout to new heights with a Digital Counter jump rope. Tired of jogging in circles? Bring fun back to your home workouts with a web-handle jump rope. Skipping rope improves heart health and burns calories faster and more efficiently than lower-impact activities like walking and jogging, and can also help to strengthen foot and ankle muscles. Jumping rope directly benefits your health while bringing back the joy of playground nostalgia. Your Mind Reader jump rope uses built-in bearings to provide a full 360-degree range of rope rotation, ensuring every revolution feels smooth and doesn't snag. A built-in LED counter displays the number of revolutions the rope has made to keep track of your jumps, while also showing the estimated calories burned. The 127″ PVC-coated steel wire cable provides ample clearance while resisting tangles and fraying, so you can jump to your heart's content. Maintain comfort with the rubberized plastic handles, while still maintaining a secure grip during intense workout sessions. Need the rope to be shorter? Easily adjust the cable length to suit your height. As versatile as your workout routine, the adjustable Mind Reader jump rope makes a perfect addition to your home fitness gear!
Dimensions: 127″ x 0.25″ x 1.25″.
Materials: PVC, Wire, Plastic. 
FULL CIRCLE - Enjoy a full, rapid 360-degree spin on your jump rope without any hitches, thanks to the integrated bearings.
SKIP THE SNAGS - The tangle-free PVC-coated wire cable won't tangle while you're jumping rope, so you can keep moving.
SECURE GRIP - The rubberized plastic handle feels great in your hands and stays secure, even if your palms get damp during an intense workout.
COUNTING MADE EASY - Built-in digital LED counters allow you to cycle through multiple modes, displaying calories burned (estimated), the number of jumps you've made, etc.
DIMENSIONS - 127″ cable, 7″ x 1.25″ handles
JUST KEEP SKIPPING - The durable, long-lasting cable resists fraying, unlike cloth or twine jump ropes that break down quickly.
ADJUSTABLE LENGTH - Adjust the cable on either side quickly and easily to the appropriate length for your height.
CARDIO LIFE - Skipping rope raises your heart rate and burns calories faster than walking or jogging, while adding fun to your home workout routine.