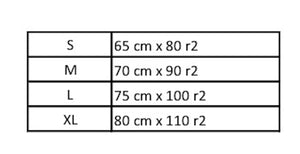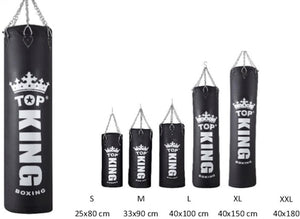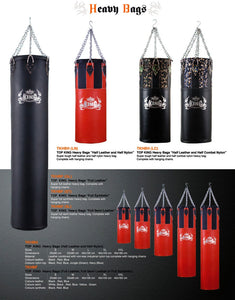 Top King "FULL GENUINE LEATHER" Heavy Bag - UNFILLED - TKHBF-GL-BLACK
OVERVIEW:

The TOP KING " FULL GENUINE LEATHER" HEAVY BAG are built to last and take the punishment of the toughest Muay Thai, boxing and MMA training sessions. For years Top King Muay Thai heavy bags have been tried and tested in Muay Thai Boxing gyms throughout Thailand and the world. Suitable for all types of Martial Arts, Boxing and MMA, Top King Muay Thai heavy bags are a great choice for any Muay Thai fighter, boxer, martial artist or trainer looking for top of the range Thai Boxing Gear that won't let them down.
Top King equipment is "Engineered for Top Performance" and students from all over the world train with Top King. Top King Boxing has grown massively over the years to become a highly respected manufacturer of Muay Thai equipment. It has a recognized standard of quality that is achieved time after time. It is created using raw materials by skilled craftsman with a lot of experience and cutting edge innovation that has been passed down from generation to generation.
Dimensions - Size M: 70cm x 90 R2 & Size XL: 80cm x 110 R2
Available Colors: Black  
SUITABLE FOR:
Muay Thai, Stand Up , Kickboxing, ALL Mixed Martial Arts, All Sports
FEATURES:
Made from top grade leather for long term durability.

Specially designed for body shots and knee techniques.

Complete with 3 hanging chains.