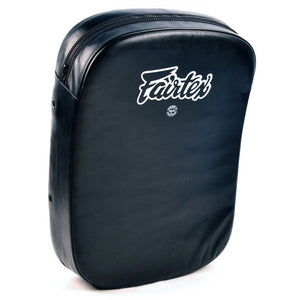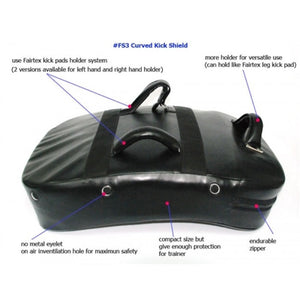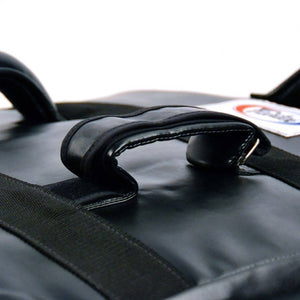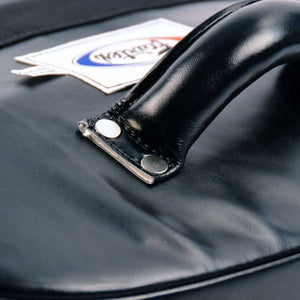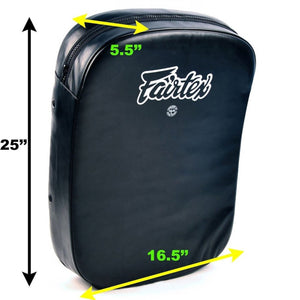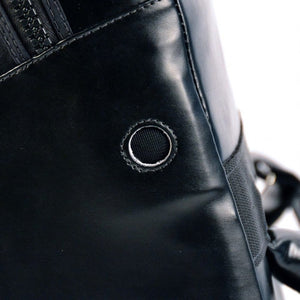 Fairtex Curved Kick Shield Pad - FS3 - Black - Handmade in Thailand
Fairtex FS3 Curved Kick Shield is Versatile use with additional handle on top to stimulate leg kick pads function. 

Kick Pads Holder System for Tight Fit & Maximum Comfort of Trainer.

Durable and Lightweight design.

Comes with air ventilation hole around shield to release air during use. 

Compact size that is constructed of Fairtex durable Syntek Leather.

High density foam core for maximum shock absorbency.

Dimension: 42cm x 63cm/14 inches X 25 inches 

Weight 3kg=6.6 lbs and sold as Single Pad. 

A true innovation in trainers Kick Shields.

Fairtex equipment is "Engineered for Top Performance.

Built to last and take the punishment of the toughest training sessions.

The choice of Muay Thai fighters, trainers and gym owners worldwide.

Handmade in Thailand. Available Color is Black.