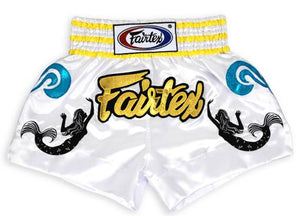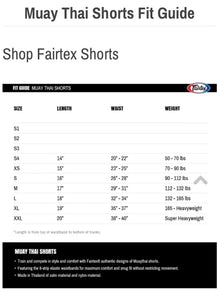 Fairtex "MERMAID" Muay Thai Kickboxing Shorts - BS0643
These WHITE" BS0643 "MERMAID" Muay Thai Shorts are quite Popular in the Muay Thai and Kickboxing world because of their look and comfort. 

They are White with the Letters "Fairtex" across the middle in the color Gold and a picture of a MERMAID on the sides of the shorts.

It has a tribal band design on sides of the shorts in blue color. 

It also features "Fairtex" on the Top of the shorts in front of the Waist with Yellow stripes across the waist.

100% polyester Satin. Ideal for competition, sparring or training.

Fairtex Logo on front, 

8-Strip Elastic Waistband w/ Drawstring for Snug Fit.
Made with Extra Wide Legroom for Better Movement when Kicking or Kneeing during training or competing, Fairtex Shorts are a Large Fit.       

 

Fairtex have been producing Muay Thai equipment since 1993 and are well known in the sport as a brand who put development and style at the forefront of their products.