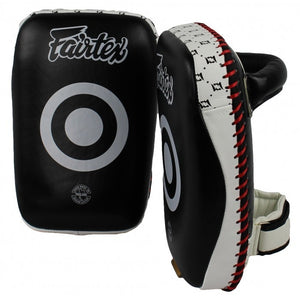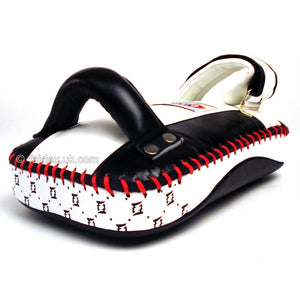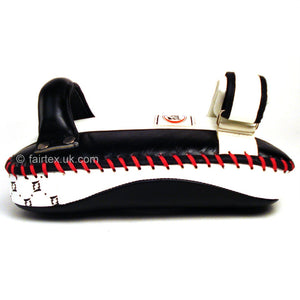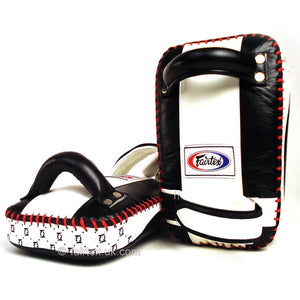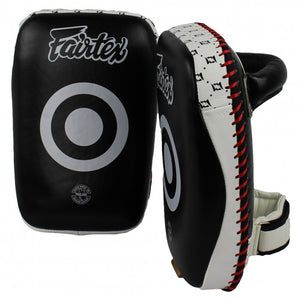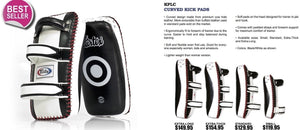 Fairtex "Small" Curved Kick Pads - KPLC1 - Sold as Pair - Handmade in Thailand
Dimensions of each pad: Length 12" x Width 8" x Thick 2.75"

Weight of each pad: 2.15 lbs

Handmade in Thailand.
Fairtex Small Curved Kick Pads offer a more target based alternative to standard Thai pads.
With just one leather strap and handle, these are slightly less bulky than the generic Muay Thai pad. 

Redesigned Foam Core is now Both Lighter and More Durable. The Velcro Enclosures are More Comfortable than other competitors.

Ergonomically designed to fit a forearm.

These are excellent quality as usual from the biggest brand in Thailand, Fairtex.

The padding is thick despite their size and they will absorb strikes perfectly.

Because of the curvature these fit to a trainers forearm and also give a light worn in feel immediately.

They are a good middle ground between focus mitts and thai pads and are ideal for smaller fighters or coaches looking to teach their students accuracy. 

Sale is for Both Pads. Sold as a PAIR. Not sold Individually.