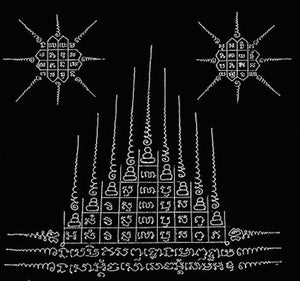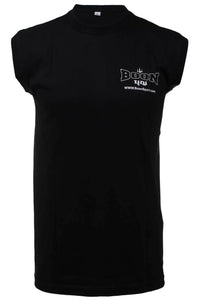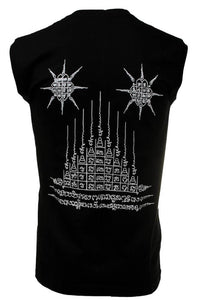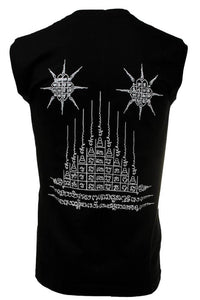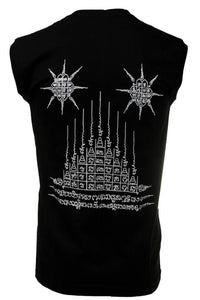 Boon Sport "YANT" Sleeveless T-Shirt
OVERVIEW:
This Boon/Boonsport Tshirt has the "Boon" Logo printed on the FRONT and the "YANT" tattoo printed on the Back of the shirt.
A Yant is a Magic Tattoo which Bestows Mystical Powers. This Sak Yant Magic Tattoo is normally Given by a Buddhist Monk or Brahmin Priest but a SAK YANT can also be performed by a layman.
Thailand is by the country with the highest number of devotees. The Thai word SAK means to tattoo and a YANT is
sacred design that incorporates Buddhist Prayers called Mantras or Katas that will invoke Supernatural Powers.
Many Thai soldiers wore cloth jackets called Seua Yant, that were printed to give protection in Battle. After the influx of buddhism into Thailand it became common for these Yants to be inscribed or tattooed onto the skin.
Thai people believe in powers of a Yant and there are many stories of people being shot at close range and the bullets failed to pierce the skin or horrific car crashes where the wearer of a Yant was completely unharmed
The Boon Sport Yant Training vest is a piece of authentic Thai boxing apparel. Crafted by Boon in Thailand for both training and casual-wear, this garment is loose-fitting yet durable. The Boon training vest is a magnificently made garment that is built to last. Made from 100% polyester and with eye-catching logos, this will make you stand out! Boon is made from the highest quality leather in Thailand and is battle-tested by warriors across the length and breadth of the country. With a focus on quality and performance, Boonsport has become a leading Thai brand. Worn by fighters such as John Wayne Parr and Liam Harrison, Boon has a reputation for quality through all of Thailand.
SUITABLE FOR:
Muay Thai, Kick-boxing, Boxing, MMA, Casual Wear
FEATURES:
100% polyester

Built with supreme durability

A wide range of colours

Handmade in Thailand

Medium, large, extra large

Black
FIT:
The Boonsport training vest is somewhat of a tight fit so you may have to buy a size up