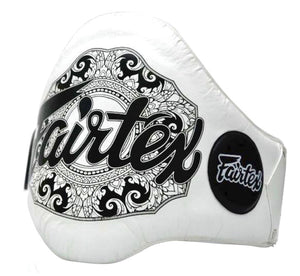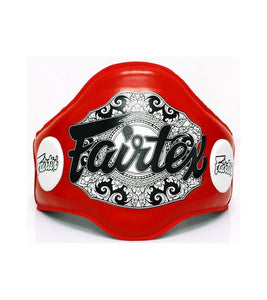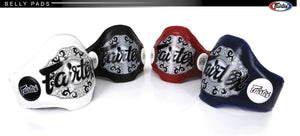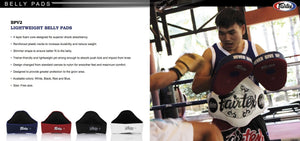 Fairtex Lightweight Belly Pad - BPV2 - extra strong top grain cowhide leather
Fairtex BPV2 Black Light-Weight Belly Pad is engineered to protect your abdominal area while allowing you to bring the best in your trainee on front kicks, foot jabs, and knee strikes.

It is much lighter than the BPV1 and other traditional belly pads.

It is made out of extra strong top grain cowhide leather the Fairtex Belly Pad can last heavy punishment in even the busiest top Thai Gym.

It features a new layer of padding and reinforced special plastic inside to cut the weight and increase durability and also enlarged bottom protection to better protect groin area.

One single piece of leather with no stitching on the front training area to irritate user.

The belt is extra wide for comfort and secure positioning, and is made of AA grade Velcro.

This piece of Muay Thai equipment is perfect for practicing kicks, knees and other strikes.

It is one of the finest Belly Pads for kickboxers and Muay Thai coaches to help train their students.

4-layer foam core designed for superior shock absorbency.

Size: Free Size

Made in Thailand.