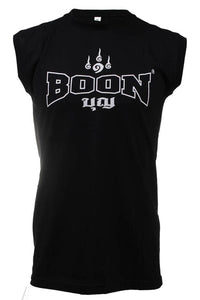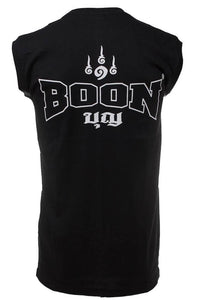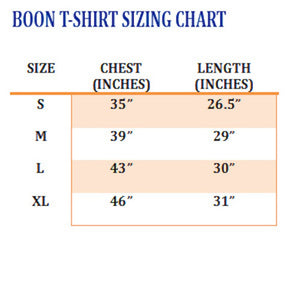 Boon Sport "LOGO" Sleeveless T-Shirt
This Boon Sport "LOGO" SLEEVELESS TSHIRT has the Boon Sport "LOGO" on the FRONT and the BACK of the shirt.
Boon Sport Logo Tee is an 100% cotton tee hand-made in Thailand and designed entirely for Muay Thai enthusiasts and fans of the sport. This is a beautiful tee that is well-crafted by a traditional Thai brand and is an authentic piece of Muay Thai apparel.
SUITABLE FOR:
Muay Thai, MMA, casual wear
FEATURES:
100% cotton

Handmade in Thailand

Authentic craftsmanship

Range of designs

One size

Black
FIT:
The Boonsport Tee range are small fitting so grab a larger size if in doubt.