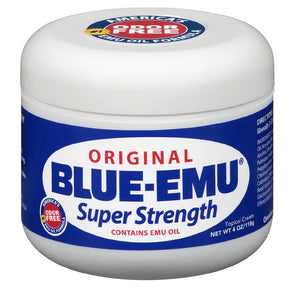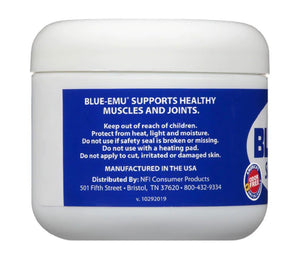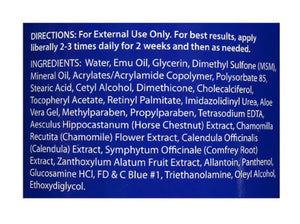 Blue-Emu Super Strength Cream - 4oz -Odor Free,Fast Acting,Non-Irritating,Deep Penetrating
Original BLUE-EMU Super Strength Cream, made with real emu oil, is a naturally powerful carrier oil that penetrates the skin with great effectiveness. This penetrating property helps the soothing ingredients of Aloe Vera, MSM & Glucosamine absorb directly to your tired joints and muscles.

Apply Original BLUE-EMU Super Strength Cream on your Back, Neck, Shoulders, Elbows, Wrists, Knees, Hips, Feet, Hands, and Ankles.
Odor Free, non-irritating, non-greasy
Moisturizing

No burning or stinging

Soothes Tired Muscles and Joints
Great on Dry, Chapped, or Weathered Skin
Safe for Daily Use
Made in USA
Apply liberally as needed.  For best results, apply 2 - 3 times daily for 2 weeks, then as needed.